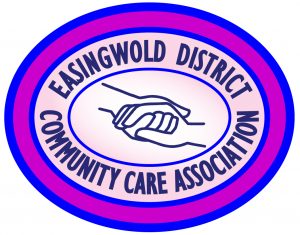 Easingwold District Community Care Association (EDCCA) has played a key role in the delivery of services and support in Easingwold and surrounding villages since 1987 and especially over the past 14 months during the pandemic. We are now looking forward and wish to appoint three Community Support and Activities Coordinators to deliver various client centred services in Easingwold and surrounding villages.
We work with volunteers to improve the health & wellbeing to a large number of clients.  The services and activities provide support, transport and facilitate social interaction. The work is varied, and no two days are the same.
The positions are currently based in Easingwold and are for 16 hours a week, 9am to 1pm Monday, Tuesday, Thursday, and Friday. Successful candidates will have a caring, professional manner, be very organised, computer literate especially in Excel and Word and be able to work well in a small, friendly team of staff and volunteers.
For a Job Description and details of how to apply please contact Di Watkins on 01347 822875 or email di.watkins@edcca.org.uk. The closing date for applications is Friday 11th June. EDCCA is a registered charity. Reg Number: 1172534