Consumer Education resources
We produce consumer education resources on a range of consumer issues. The materials are free to download. The activities are designed for advisers/ educators/ group leaders to use to raise awareness of consumer rights and responsibilities and for learners to develop the skills and confidence to deal with consumer issues.
---
Do you need help paying for food? Are you going hungry? Don't know who to turn to?
Please contact us via email: info@edcca.org.uk or ring us 01347 822875 and we can help you directly or by putting you in touch with people who can.
---
---
Coronavirus Community Support Fund
Funding from the Coronavirus Community Support Fund, distributed by The National Lottery Community Fund, has helped us to continue to carry on throughout the pandemic delivering shopping, meals on wheels, prescriptions and telephone befriending.
Thanks to the Government for making this possible

---
Easingwold Running Club
Members of Easingwold Running Club have raised funds for us by undertaking challenges during lock-down. They have had fun doing it and it has kept their running shoes busy!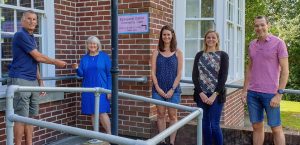 The photo shows our Chief Officer Di accepting the cheque from Colin Fletcher and other key members of the Running Club. All socially distanced of course!
We are very grateful to them for all their efforts and the nearly £1000 raised.
---
Easingwold District Community Care Association and Easingwold District Lions working together during the Covid-19 crisis.
The last two Saturdays saw us organising 60 afternoon teas from Morning Coffee, Afternoon Tea on Long Street, delivered to some of our Meals on wheels clients. All made possible by the generous donation from Easingwold District Lions to whom we are very grateful. We know the teas were greatly appreciated.
Photos show a tea plus the Lions who kindly delivered them. It's great when two local charities work together especially in times like these. Thank you to all involved and for Brian and his team for preparing the teas for us.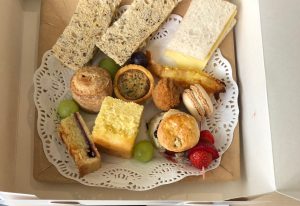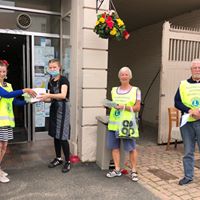 ---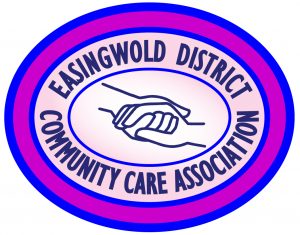 We raise funds to support all our services to help people in the community.
Please visit our justgiving page at: https://www.justgiving.com/edcca to see how you can help.
---
EDCCA and Coronavirus – March 2020
Download our guide for EDCCA staff, volunteers and users here
---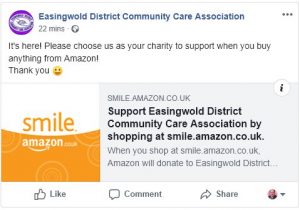 ---
EDCCA and North Yorkshire Police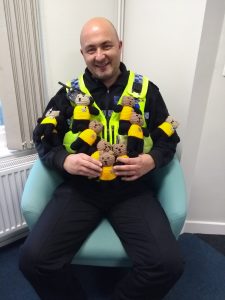 Our fabulous Knit and Natter group who meet once a month at Springhill Court have knitted some more brilliant Bobby Buddies for North Yorkshire Police to use when they are dealing with incidents where there are children. They are really useful where children need to be reassured or to break the ice. Thank you Ladies!
The photo shows PCSO Chris Wood with some of the Buddies.
---

Ask D.A.V.E – Dementia Awareness in the Villages and Easingwold
Last Friday in the Galtres Centre, EDCCA and Dementia Forward launched an initiative called DAVE. The aim of this initiative is to raise awareness of Dementia with the opportunity to sign up for free training provided by Dementia Forward who also offer support for those affected and advice for those concerned about memory problems.  
A DAVE leaflet gives information about all aspects of treatment, care and support plus activities in Easingwold which are readily accessible to Dementia Sufferers. Woven Branches Day Centre for example which is run by EDCCA in Springhill Court on Mondays and Thursdays from 10am until 3pm. Anyone can sign up for the training and we hope that more businesses will sign their staff up so we can recognise them as DAVE friendly.  
We have DAVE bookmarks too and a DAVE card which can be carried by those with Dementia in case they feel bewildered or lost at any time. The card gives information about who to call if they need help.  
For more information about anything to do with DAVE, please call EDCCA.
---
As a registered charity EDCCA works hard to support people in need and improve their quality of life in Easingwold and District.
We know that there are many people who because of their age or for health reasons rely on the services that we provide such as using the community car scheme to attend a medical appointment or being visited by a friendly volunteer through our Befriending Scheme.
We have much to be proud of and we thank you for your continued support.

---

Easingwold District Community Care Association needs your help!
Join easyfundraising and you can collect free donations for us every time you shop online. It won't cost you a penny extra. Show your support here http://www.easyfundraising.org.uk/causes/easingwooddistrictcommcare and help make a real difference.
---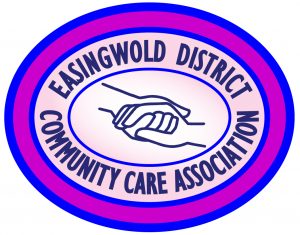 We raise funds to support all our services to help people in the community.
Please visit our justgiving page at: https://www.justgiving.com/edcca to see how you can help.
---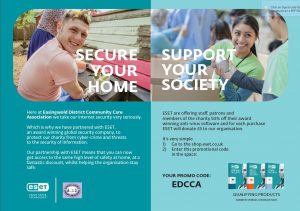 Here at Easingwold District Community Care Association we take our internet security very seriously.
Which is why we have partnered with ESET, an award winning global security company, to protect our charity from cyber-crime and threats to the security of information.
Our partnership with ESET means that you can now get access to the same high level of safety at home, at a fantastic discount, whilst helping the organisation stay safe.
Use Promo Code EDCCA
---
Woven Branches Day Centre for people living with dementia
Easingwold District Community Care Association offerings a day care service on Mondays and Thursdays 10am to 3pm for those people living with dementia.
Join us in a safe, home from home environment in Easingwold to make new friends and join in activities. You will be able to talk to dementia support staff and be helped to enjoy your day by trained volunteers.
The cost for the day is £35. This price includes a hot two course lunch and refreshments throughout the day.
Transport can be arranged through our Community Car Scheme – 01347 822598
To find out more or to arrange a free visit to Woven Branches call 01347 822875
or email to:  info@edcca.org.uk
---
Community Minibus
Easingwold District Community Care Association runs a Community Minibus.
The 15 seater bus has a tail lift for easy accessibility and wheelchairs and walking frames may be accommodated.
The Association runs weekly assisted trips out to various destinations such as Northallerton, Ripon, Garden Centres etc. normally leaving Easingwold at 10:30 am. If you would like to find out more or book a place on the bus please contact us on 01347 822 598 or email carscheme@edcca.org.uk
To hire the Minibus your group must be a not-for-profit organisation. EDCCA can usually provide a qualified driver.
Basic Cost
Hire of up to 5hours (half day rate)    £45
Hire over 5 hours (full-day rate)         £85
In all cases mileage is added to the above charged at 55p per mile, commencing and finishing at place of minibus parking (Police House)
For details about hiring the minibus contact car scheme 01347 822598 carscheme@edcca.org.uk