Men in Shed's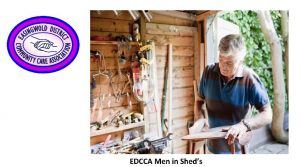 Easingwold District Community Care Association (EDCCA), has launched a new Community Initiative in Easingwold for local residents and the surrounding areas. It is called Men in Sheds and will be joining nearly 500 established groups located across the UK who are part of the rapidly expanding Men in Sheds concept. In 2013 there were only 5, so the question is what is this all about and why is it so popular?
After retirement or when personal circumstances change it is common to feel a little at a loss and to miss workmates, friendships, relationships and banter. Men is Sheds is all about providing a community space for groups of predominately older men, who would like to re-build social connections. Its aim is to give you the opportunity to enjoy the company of others, talking, sharing, creating and doing something practical. The whole idea is to have a reason to bring people together.
Men in Sheds activities are decided by the group. Some groups are involved in D.I.Y, making, mending and repairing all sorts of items, big and small. Other groups enjoy gardening and managing an allotment where they can grow fruit and vegetables. In Easingwold you can do both.
EDCCA has been able to raise the funds needed to develop this project due to the generous support of Easingwold Town Council, Easingwold District Lions and Hambleton District Council for which we are truly grateful. It means we can provide 2 different facilities for you to use, at no cost to yourself:
We have acquired an allotment at Stillington Road and are in the process of building a large shed on the site.
With huge thanks to the management team at Easingwold's Youth Centre COZIE, you can also use the facilities of this building during the day as the young people usually would not be at the centre until late afternoon.Men in Sheds Easingwold gives you the opportunity to meet up with others, put the kettle on and get involved in a whole range of gardening related projects at the allotment and the shed or use your DIY and practical skills at COZIE.To find out more and decide if you would like to get involved do please contact us:
Helen Lambert at EDCCA – 01347 822875 or email info@edcca.org.uk
Whatever the activity, Men in Sheds is not just about the allotment and the building. It is about the relationships and companionship that develops between the group.
Some men will have skills they can share and some will learn new skills through being involved. Fundamentally it is about enjoying your day with likeminded people and sharing experiences.
---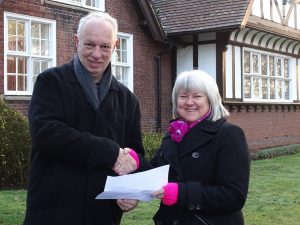 Friends of St Monica's have agreed to fund two projects which will be run and administered by EDCCA.

One – to provide car scheme assistance in the form of pre-arranged daily journeys to and from the York Against Cancer minibus which transports patients to and from the Bexley Unit at St James hospital in Leeds. This will benefit people in the Easingwold and District Area who find it difficult to make the journey alone. Indeed using the minibus has helped people share their journey with people who are undergoing similar treatments and can support each other. Passengers in our area  will be referred to us by various means including the hospital.
Two – A scheme which will support patients being discharged from St Monica's in the form of up to 6 visits where we will offer practical support whilst the patient is settling back into their home. This will akin to a sitting or befriending type and will be tailored according to individual needs. It will complement any health care support and will be very much client led.
"EDCCA is delighted to be given the opportunity to work with Friends of St Monica's in this way and look forward to sharing positive news about making a difference in people's lives over the coming year". 
---
Nationwide initiative
EDCCA are lucky enough to be the chosen charity in the Nationwide branch in Easingwold from January until April. We have a picture quiz with celebrities and places for  £1 and the prize is a voucher from a coffee shop in Easingwold. We also have an original Art raffle for which tickets are on sale for £1. This gives you 5 chances to own an original piece of art! The winners will be drawn at the beginning of May.

The last cake sale will be on the 26th April. Please feel free to make a cake or pop in an buy one. The remaining little knitted chicks with a crème egg inside are on sale for £1. The have been very popular and will soon be sold out. We are very grateful to Nationwide for their support.
Please support us if you can. Thank you
---
Winter Fuel Allowance
Someone has offered to donate their winter fuel payment to EDCCA as they do not need it. If you are in a similar position please consider donating it to us and we will use the money to support people in our community that do need help. Furthermore, we are now registered for Gift Aid and this can make any donation worth far more.
---
The latest minibus trips which are:
MINIBUS JOURNEYS WITH EDCCA 2019
Don't miss out on our fantastic trips in your beautiful minibus
Wednesday 19th June – Richmond – Fare £8
Thursday 27th June – Saltburn by the Sea – Fare £12  –  9:30 pick up
Sunday 30th June – Shandy Hall and Coxwold Tea Rooms/ Faulconberg Arms  Fare £5 (Entry and refreshments not included)
Friday 5th July – Leyburn market day, Teapot Museum – Fare £7
Thursday 11 July – Thirsk Garden Centre £5
Wednesday 17th July –Wetherby Whaler and Allerton Waste recovery Park – guided tour please ring for details as restrictions apply. 11am start. Fare £6
Thursday 25th July – Lion Inn Blakey Ridge and Hutton le Hole £8
Friday 26th July –  Stokesley Market Day Fare £8
Tuesday 13th August – Yorkshire Shepherdess Cream Tea 9:30 start Lunch in Hawes before Cream Tea. Fare £15 (not including refreshments)
DEPART EASINGWOLD MARKET PLACE 10:30am (unless otherwise stated)
TO BOOK A PLACE on the MINIBUS CALL 01347 822598 or
Email – carscheme@edcca.org.uk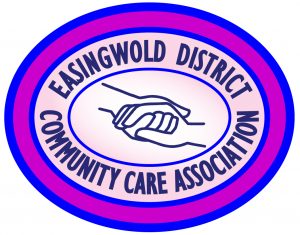 ---
Bring and Buy Sale and coffee morning 
The event on the 14th November was a great success and it was lovely to see so many people come to support us. Thanks to everyone who organised, helped and attended.  
New Logo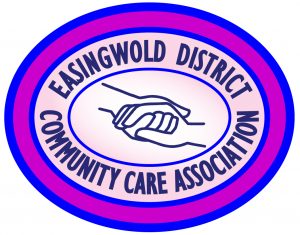 We have launched a new brighter logo and we hope you like it.