Men in Shed's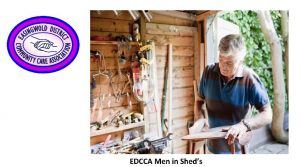 A meeting for all those interested in this project will be held at our office in the Police House, Church Hill on the 26th February at 10am.
Do come along and find out about our next steps to making this a reality in Easingwold.
For more information or to register an interest please call us on 01347 833875
---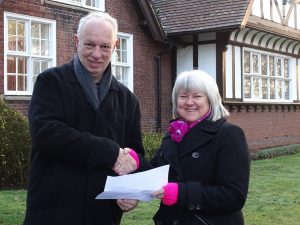 Friends of St Monica's have agreed to fund two projects which will be run and administered by EDCCA.

One – to provide car scheme assistance in the form of pre-arranged daily journeys to and from the York Against Cancer minibus which transports patients to and from the Bexley Unit at St James hospital in Leeds. This will benefit people in the Easingwold and District Area who find it difficult to make the journey alone. Indeed using the minibus has helped people share their journey with people who are undergoing similar treatments and can support each other. Passengers in our area  will be referred to us by various means including the hospital.
Two – A scheme which will support patients being discharged from St Monica's in the form of up to 6 visits where we will offer practical support whilst the patient is settling back into their home. This will akin to a sitting or befriending type and will be tailored according to individual needs. It will complement any health care support and will be very much client led.
"EDCCA is delighted to be given the opportunity to work with Friends of St Monica's in this way and look forward to sharing positive news about making a difference in people's lives over the coming year". 
---
Nationwide in Easingwold
EDCCA are luck enough to be the chosen charity in the Nationwide branch in Easingwold from January until April. We have a quiz about Yorkshire for £1 and the prize is a voucher from a coffee shop in Easingwold. A food hamper which is being raffled until the end of February.
Cakes on the last Friday of the month and little knitted chicks with a crème egg inside, again for £1.
Please support us if you can. Thank you
---
Winter Fuel Allowance
Someone has offered to donate their winter fuel payment to EDCCA as they do not need it. If you are in a similar position please consider donating it to us and we will use the money to support people in our community that do need help. Furthermore, we are now registered for Gift Aid and can this makes any donation worth far more.
---
The latest minibus trips which are:
MINIBUS JOURNEYS WITH EDCCA 2019
Thurs 14th Feb – Ripon (Market Day) Fare £7.50 Depart 2:30pm
Wed 20th Feb "Mary Queen of Scots" Ritz Cinema, Thirsk  –  £5 + £5 entry.  Leave Easingwold 1:30pm  – Depart approx. 4:45pm
Wed 27th Feb Knaresborough (Market Day) Fare £8- Depart 3pm – Fare £8
Wed. 6th March – Macarthur Glen Designer Outlet – depart 3pm – Fare £7:50
Mon. 11th March – Pickering (market day) and afternoon tea at Canadian Fields on return journey departs Pickering 2:30pm then CF at 4pm- Fare £15
Wed.13thh March Ritz Cinema Thirsk – "All is True" £5 plus £5 entrance (concession price)
1:30pm – departure from Thirsk approx. 4:45pm
Wed.20th March – Bridlington TEA DANCE at The Spa 2pm tickets purchased separately at £6:50 which includes tea and scone, or a spring day at the seaside. Departure from Brid at 4:30 – Fare £15
Wed 27th March – Barnard Castle (market day) and Bowes Museum (with 12 plus passengers admission is reduced to £10 with guided tour) Leave Easingwold at 9:30 am and depart BC at 3:30 pm. Fare £15
Tues. 2nd April – Bedale (market day) Depart from Bedale 3pm Fare £8
Thurs. 11th April – Castle Howard. Depart CH 2:30pm Fare £6:50
Wed. 17th April Bridlington Spa Tea Dance – same as 20th March
Tues. 30th April Pocklington (market day) and Burnby Hall (Tulip Festival) depart 3pm.
Fare £8
Wed 8th May Scarborough / BOWLS FESTIVAL (open bowls 12 – 2pm) depart Easingwold 9:30 and depart 3:30pm Fare £15
DEPART EASINGWOLD MARKET PLACE 10:30am (unless otherwise stated)
TO BOOK A PLACE on the MINIBUS CALL 01347 822598 or
Email – carscheme@edcca.org.uk                
---
Bring and Buy Sale and coffee morning 
The event on the 14th November was a great success and it was lovely to see so many people come to support us. Thanks to everyone who organised, helped and attended.  
New Logo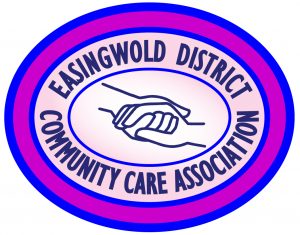 We have launched a new brighter logo and we hope you like it.