Community Car Scheme to help people who have difficulty using public transport or who need to travel when there is no public transport available. The Scheme is supported by volunteers using their own cars who are paid a mileage allowance. Passengers are charged a contribution towards the drivers' expenses.
Community Minibus – For hire by properly constituted voluntary and community groups, schools and other not- for-  profit organisations. EDCCA run weekly assisted outings in the minibus.
Woven Branches – Day Care Centre for those living with dementia meets Mondays and Thursdays in Easingwold
A Befriending Scheme which has a dedicated team of volunteers who are willing to help and enhance individuals living independently by giving their time for shopping, trips out, or coffee and a chat.
Meals on Wheels The meals service supplies a freshly cooked, nutritious, hot two course meal, delivered by a team of friendly volunteers. This service is currently offered in a number of local areas. Please contact Helen Beck on 07541 356046 or email: helen.beck@edcca.org.uk
The Community Day Centre for Older People is open Tuesdays and Fridays 10am – 3pm. A charge is made for the day which includes refreshments and lunch. The group meets in Springhill Court, Manor Road, Easingwold. Contact Anne Banks on 07745 204470 or email: anne.banks@edcca.org.uk
Knit and Natter meets on the first Monday of every month (except Bank Holidays) 1.30-3.30pm at Springhill Court.
Crossword Club meets every Monday 10.30-12.30am at the Police House, Easingwold. It is a small friendly group which welcomes new members.
Quote from Paul Bull, client at Day Centre. I would be lost without the Day Centre. I am made to feel very welcome by Anne, the Day Centre Co-ordinator and the volunteers and I have met lots of new friends. I particularly enjoy the activities and outings and the company. I have a very reliable community car driver who never lets me down. Thanks to EDCCA for arranging these services.
Community Visiting Scheme where volunteers visit carers in their own home and provide them with the opportunity to have a well earned break, visiting their friends or even a trip out to the gym or shops. Visits are normally weekly or fortnightly and last a couple of hours at a time to suit both the volunteer and the person being visited.
Volunteers are paid travelling expenses and training and support is provided.
OTHER SERVICES
EDCCA also provides Information on a wide range of local services and health and welfare matter and sign-posting to specialist agencies if required.
We can provide a short term Wheelchair hire
EDCCA always needs volunteers! There is no specific time commitment required for either voluntary visitors, sitters or drivers. YOU decide what time you have available to help. Expenses are paid and training and support is provided as appropriate.
Volunteers are insured under EDCCA's own insurance policy while engaged in work for the Association.
IF YOU WOULD LIKE MORE INFORMATION ABOUT ANY OF OUR SERVICES OR WOULD LIKE TO BE A VOLUNTEER, PLEASE CONTACT:
Easingwold District Community Care Association Police House, Church Hill, Easingwold, York, YO61 3JX Office Hours: Monday, Tuesday, Thursday and Friday 9.30am to 12.30pm Tel: 01347 822875
Car Scheme, Police House Office Hours: Monday, Tuesday, Thursday and Friday 10.00am to 12.00 noon Tel: 01347 822598 (answerphone service available)
Donations and legacies for the Association can be gift aided and are very welcome.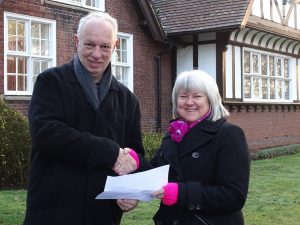 Friends of St Monica's have agreed to fund two projects which will be run and administered by EDCCA.

One – to provide car scheme assistance in the form of pre-arranged daily journeys to and from the York Against Cancer minibus which transports patients to and from the Bexley Unit at St James hospital in Leeds. This will benefit people in the Easingwold and District Area who find it difficult to make the journey alone. Indeed using the minibus has helped people share their journey with people who are undergoing similar treatments and can support each other. Passengers in our area  will be referred to us by various means including the hospital.
Two – A scheme which will support patients being discharged from St Monica's in the form of up to 6 visits where we will offer practical support whilst the patient is settling back into their home. This will akin to a sitting or befriending type and will be tailored according to individual needs. It will complement any health care support and will be very much client led.
"EDCCA is delighted to be given the opportunity to work with Friends of St Monica's in this way and look forward to sharing positive news about making a difference in people's lives over the coming year".